LBRY now on Windows. Bringing Blockchain Video to the Masses.
Jeremy Kauffman •
Oct 25 2016
The LBRY beta app is now available for Windows! This has been the #1 request from users since our launch in July. Now the future of digital content distribution is available on the world's most popular desktop operating system.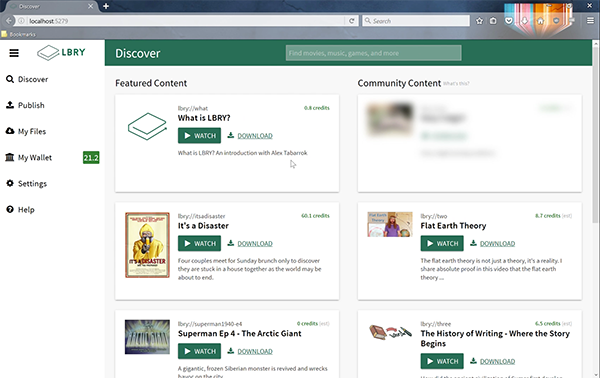 LBRY is currently compatible with Windows 7 and higher. That's 90% of the desktop OS market! The Windows app has full functionality, including the ability to:
Search, browse, then download or stream all LBRY content.
Upload original content.
Send LBRY Credits (LBC) between users.
Check out this short demo video:
0:05 – Discover: LBRY's home content discovery screen. Content on the left is featured and updated by LBRY. Content on the right comes directly from community bids.
0:11 – Streaming a video.
0:31 – My Files: Browse the content you have downloaded or published to LBRY.
0:44 – My Wallet: Check your LBRY Credits (LBC) balance, view your transaction history, send LBC to others, and copy your wallet address to receive LBC from others.
0:53 – Settings: Control various LBRY settings.
0:58 – Publish: Upload your own content to LBRY. Find out if a LBRY name is available and bid on it. Set a price for your content and add useful metadata.
LBRY is a content-sharing and publishing platform that is decentralized and controlled by its users. It allows content creators to post their works to the hosting network, set their price per view/download, and collect payment.
LBRY is an open-source protocol, as opposed to a centralized service, so there is no entity to take a "cut" of transactions or change the terms in an attempt to monetize the product. It's like a new extension of the internet for delivering all media – films, ebooks, songs, and apps – from creators directly to consumers with radical efficiency.
Not on LBRY yet? Get an invite here. Know some great public domain content to share? Have high-quality scans? Email reilly@lbry.comfor a trip to the front of the line.